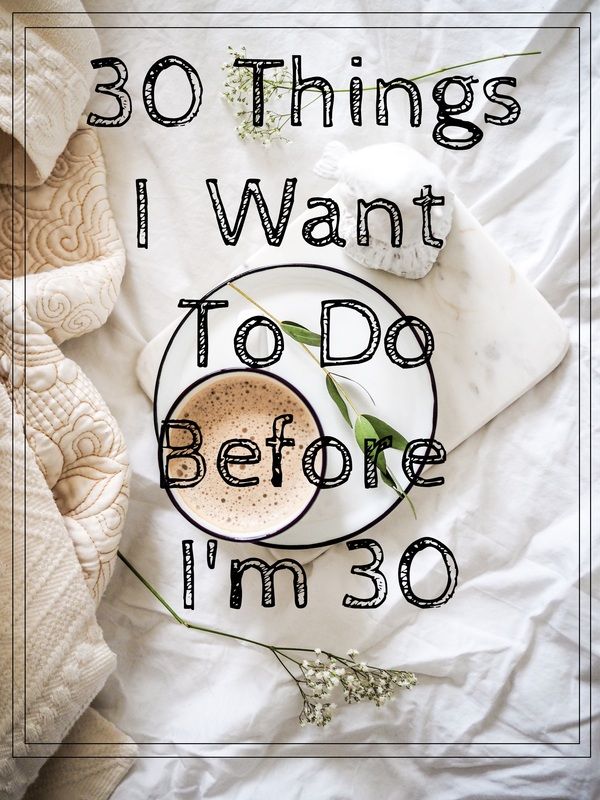 Today the Royal Wedding is taking place. It's also my Birthday but I don't want to steal the spotlight from Ms Markle and her beloved. Who am I kidding? It's the one day a year I that I get to put myself first without feeling guilty.
Today I turned 29 and looking back on the last 10 years I don't feel like I've come far. Of course, I've become a Mum of two beautiful children and that in itself is more than enough to be proud of. But when I think of everything I wanted to do with my life I can't help but feel a little underwhelmed. So I've put together a list of things I want to do before my 30th Birthday.
Professional.
1 – Publish a Novel.
2 – Start a Fantasy Serial
3 – Publish a Non-Fiction Book
I have always been a writer and it's been a goal of mine to get my work published. With Kindle Direct Publishing as an available option, I can achieve this goal. In fact, I'm already making moves on this with a novel set to release at the end of June.
4 – Be more consistent with my content creation.
5 – Grow my online platforms.
6 – Be more confident to reach out and get involved.
This is across all platforms. I get passed over for a lot of opportunities because my blog is inconsistent and I feel like I can't maintain an audience on Youtube for the same reason.
7 – Get involved in more events.
Getting established as a local MUA is a difficult process for someone like me who has a very small friendship circle, so doing free work is really the only way forward. Thankfully there are lots of events throughout the year. The University fashion shows and charity fashion shows would be my prime targets but also trading work with photographers.
8 – Get Basic Makeup going.
Yes, this old chestnut. I'm not holding my breath on this one but it's still worth including.
9 – Keep my eyes on my own work.
10 – Be more innovative.
I often get caught up consuming the work of others and I allow it to influence me too much. I need to focus on what I want to do and move forward from there, rather than trying to keep up with everyone else.
Personal
11 – Lose 50 lbs.
12 – Get back into an exercise routine.
13 – Curate my personal Style.
I need to do a post on this topic, but I feel a great need to get myself back. These are this first steps of many on that journey.
14 – Improve my credit score.
15 – Pay off my debt.
This may not be fully achievable but it's an area of life I need to get a handle on quickly.
16 – Learn to drive.
Yeah, I still haven't gotten to this yet and the longer I leave it, the more scared I get.
17 – Reach out to people.
We've established I'm not very social. Unfortunately, this is so well established that I find it very difficult to reverse this impression people have of me.
18 – Go for a massage.
19 – Go on a date.
20 – Get more rest.
Generally, find some balance in life and take time out. Spend some time with Nick without the Kids.
Family
21 – Buy a car.
22 – Start saving a deposit for a house.
23 – Declutter my house.
24 – Set up "Future Funds" for the kids.
These are things that will benefit our family as a whole.
25 – Go on a family trip.
26 – Go to more events.
27 – Spend more time with the Grandparents
I want to make family time more of a priority. I've realised this isn't something that just happens, you need to work a bit to make family time happen because it involves so many people.
28 – Bake more.
29 – Do more craft projects.
I want to get the kids involved in hands-on activities from an early age. Obviously, Rowan won't be able to join in for a while, but just being able to watch would be of benefit to him.
30- Be more patient.
I'll be the first to admit I'm not the perfect parent. Sometimes it does get on top of me and I'll have a shorter fuse. I want to learn some calming techniques to make this a less frequent occurrence. Getting frustrated over little things not only sets a bad example but lessens the impact on occasions where that type of reaction is necessary.
It's not the end of the world if I don't tick everything off this list by my Birthday next year, but each one would get me one step closer to being where I think I should be by now. Hopefully, I'll be able to document my achievements along the way.
laura
xoxo