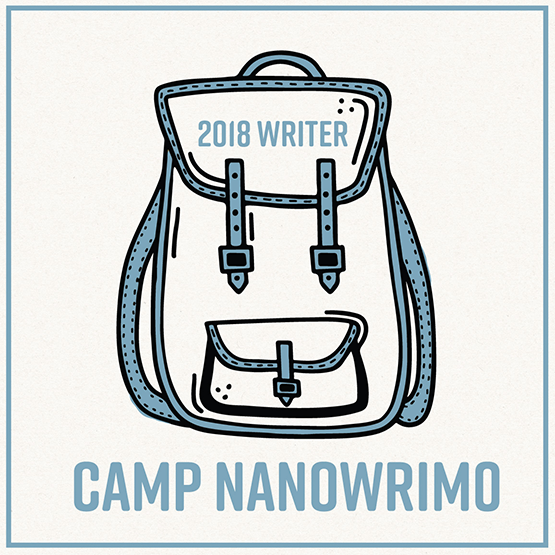 Last week the email came through that sign up was open for
Camp Nanowrimo
. I was straight over there logging in and registering my project. Camp starts April 1st and I have a lot to get done befores then.
Overview
National Novel Writing Month (Nanowrimo) is an event held in November where you challenge yourself to write a novel of 50,000 in 30 days. Twice a year (April and July) they host Camp Nanowrimo. These events are just to encourage you to focus on whatever writing project you want to work on. It could be a novel, a screenplay or maybe you want to use the time outline a future project. Camp also lets you choose the goal you want to aim for, whether it's a word count or a set number of hours worked.
They also group writers into cabins where you can support each other, discuss ideas and ask for advice.
My Project
One of my goals this year is to finish some of my open projects. For this round of Camp I want to work on my Contemporary Young Adult project. This is something I've been working on since 2014. I'd always get so far with it and either misplace the folder that had all my notes or I'd lose focus and put off coming back to it.
This time I want to get it finished so I can work on polishing it up for publication later in the year and also so I can move on to other projects without having the guilt of this being unfinished hanging over me.

Plans For March
My main goal in March is to finish up my outline for this project. I spent most of February working on it a little every day and now it's almost done.
But I have other commitments, like blogging and Youtube. So in order to commit as much time as possible to writing in April, I need to do some things in advance. I will be pre-filming and schedule as many videos as I can, anything that isn't time-sensitive content. I will also be setting aside a little extra time to bulk write some content for here on the blog. It won't be a whole month worth of content but enough to make it easier to manage.
I'm also going to be reading books on writing craft and techniques. I always find I'm more productive in my writing when I eat and breath writing. Even if they are books I've read before it is beneficial to read them, again and again, to keep the information fresh in my mind.
This is just a quick overview of my prep work for Camp. I will go into more detail in posts later in the month.
If you are thinking of joining in, just head on over and sign up. We might end up bunking together.
Laura
xoxo