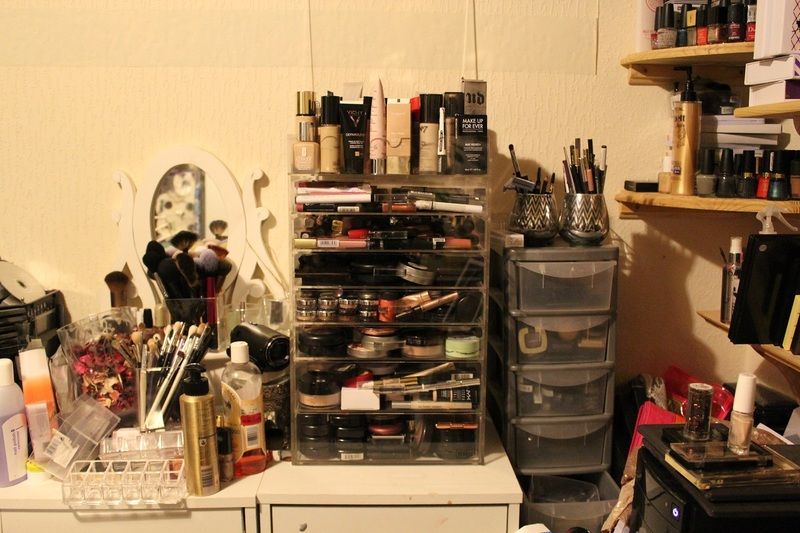 If you've been following me for a while you'll know I've owned a lot of makeup over the years. Every now and then I'd have a clear out, but what remained was what could only be described as excessive. That being said I never thought my collection was overwhelming or out of control. I could recall and locate any product in moments.
I always knew I had a lot of make up but only really started to realise just how much at the beginning of last year. I bought an eight tier acrylic storage unit and it only held two thirds of my collection. Later I took an inventory to get an exact figure and I was surprised. But the real kicker was when I had to pack it all to move. You don't realise how much stuff you own until you have to move it and moving all that make up was an eye opener.
Most of it actually sat unpacked until November when I couldn't find something. I know that sounds dramatic that it took me not being able to find something to get me to unpack; but like I said, I have always been able to locate any product any time I've wanted to use it. The item in question was the Becca Sunlit Bronzer in Bali Sands which I had bought not long before we moved and hadn't even opened it yet. So I unpacked everything and still couldn't find it. That's when I decided enough was enough; you know you have too much make up when you can't find something you haven't even opened.
I embarked on the most in depth declutter I've ever done, I wasn't holding back. I ditched anything that had gone off, anything I had used in ages and anything I honestly wasn't going to use. Completely halving some categories. By the end almost everything except for my lipstick (I always have and always will have a stupid amount of lipstick) was able to fit in the acrylic unit. But I didn't find that bronzer; turns out I'd put it on my desk and, with all the clutter of unorganised make up, it had been knocked on to a shelving unit beside my desk and had been there the whole time.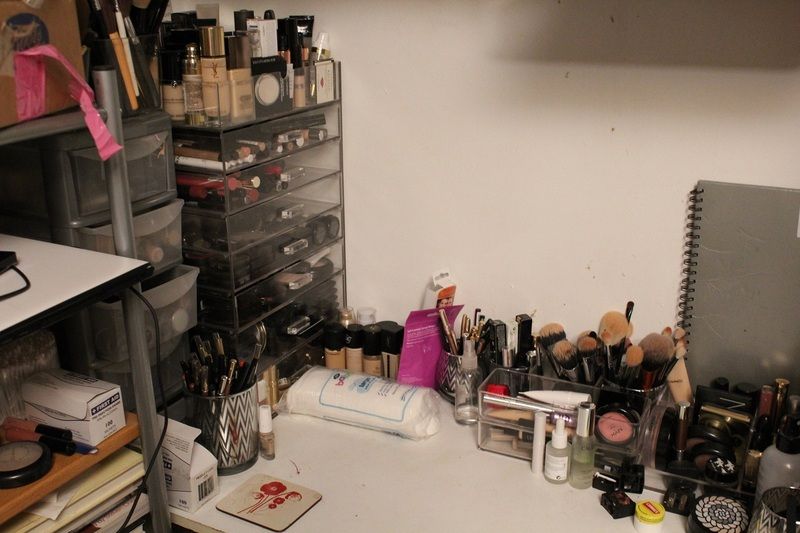 This was clearly something that needed to happen and I'm so happy that it did. My makeup collection had a lot of dead weight to it and it was starting to feel like a bit of burden. Anytime I wanted to pick up something new to try my collection would cast a shadow over my joy. It was becoming difficult to choose which product to use because I want to use my new things but at the same time I didn't want older products to go to waste.
This experience has completely changed how I look at my collection. Yes, it's still excessive but far more condensed than what I started with. I actually enjoy my collection so much more now there is less. It reflects my current taste more; where as before it was littered with products I was into, anything up to, 5 years ago. Now I can dabble in one foundation for a few days, then switch for another and not feel guilty about anything going to waste. My collection is manageable again and I couldn't be happier.
Laura
xoxo
Links marked with an Asterisk (*) are Affiliate Links.