Yesterday morning I woke up to the news breaking across Twitter. Youtube had made a major change to the Partnership Program and a lot of people were pegged to be booted from the program. The details at this point were fuzzy but many people stated that those affected had been notified by email. So, of course, that was my next port of call. And, yes I am one of those affected.

At the time of writing this, I have a healthy 1266 subscribers. It has taken years to grow my audience and it is forever fluctuating. But thankfully I have met one part the criteria. My issue lies in the required watch time.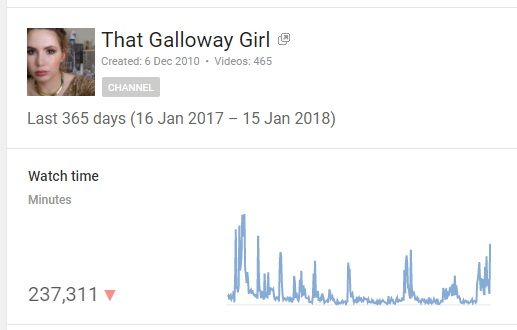 The threshold is to have had 4,000 hours of your content viewed in past 12 months. The analytics page on Youtube measure in minutes, so they are looking for 240,000 minutes. I fell short of this by 2,689 minutes. I have until the 20th of February to make up these numbers or I'm getting the boot too. Sure, I can reapply but there is no guarantee that I'll be approved again.
The little red, downward pointing arrow indicates my watch time is lower than the previous period of time. And it is significantly lower. During the previous 12 months 370,742 minutes of my content had been viewed. And the year before that had produced a similar figure. So what changed?
If you read my reflection on the last year, you'll know how up and down it was. I started and ended the year on Maternity leave and we moved house smack in the middle of it all. Life needed to come first for a bit and I took my eye off the ball.
Running a Youtube channel and Blogging is, for the most part, a one-man show. It takes a lot of time, energy and resources. Raising a family and having a job makes it all the more difficult to get everything done that you want to. Your time just isn't your own. And I wanted to change that.
Whilst on Maternity leave this time around, I wanted to really make a go of it with my channel. To grow it to the size where I could make a respectable income. I even started a second channel for dedicated, in-depth beauty videos; which will certainly have its Adsense approval removed. I wanted to try to get to a place where I could work for myself and this has thrown a big-ass spanner in the works.
I have until the 20th of February 2018 to fix this.
If you'd like to help please watch a few of my videos –>HERE<-- I'd really appreciate it. If you have been affected by this, send me your link on Twitter and I will do my best to help get your name out there.
Laura
xoxo