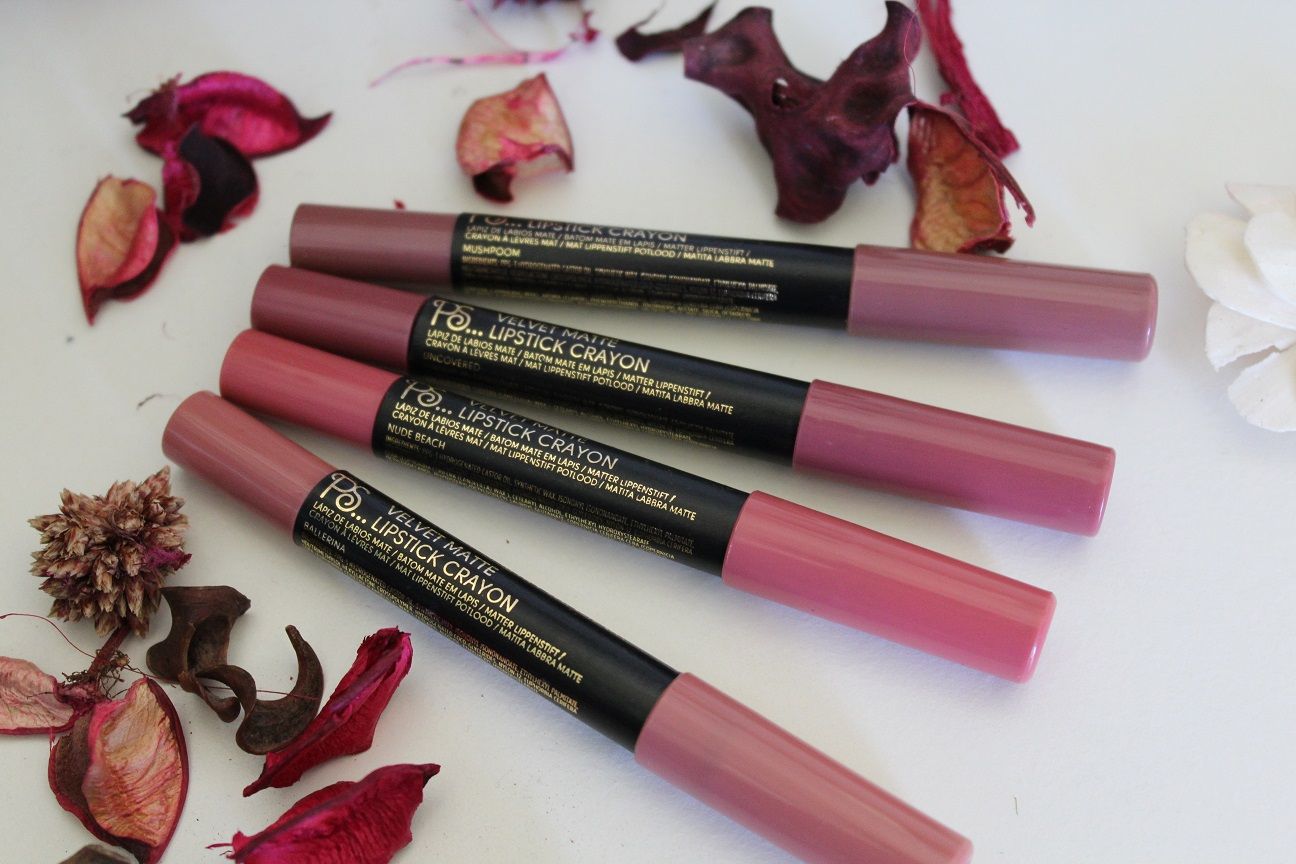 I was standing in the ridiculously long queue in Primark browsing the bizarre tat while I waited. Rows of socks, fruit snacks, a rack of bargain dvds, candles; you get the jist. The line moved up an I approached the bowl that usually hold lip balm or baubles and found something different, lip crayons. The PS Velvet Matte Lipstick Crayons to be exact.
I'd seen Primark makeup before and didn't think much of it and I'd heard it had a reboot, that it was far better than before. I hadn't been able to seen for myself before as the shelves were usually picked clean and what was left were never serviceable products. Here they were in front of me, pristine and plastic wrapped. They were only £2 a pop so I picked one of each shade in the bowl, all of which were nudes. I love a good lip crayon especially matte ones. Let's see how these fare.
The Basics
As I mention these are only £2 a piece but I don't go by price when I set my expectations. Brands like ELF, MUA and Makeup Revolution have shown you can pack a punch in to a small price tag. These lip crayons are packaged in a traditional pencil format that requires sharpening. Being on the chunky side you will need to own a duo sharpener. This to me isn't an issue, in fact I prefer this style to mechanical pencils. You get more product, they're easy to sanitize and don't tend to break on you.
And while these aren't a dupe for the Nars Matte Velvet Pencil they are quite good. You do feel they on the lips because of their creamy texture, but this allows the product to be matte and still provide some moisture. They actually remind me of the ELF Matte Lip Colors which are favourites of mine.

The Shades
Mushroom
Perfect if you're into deep mauve shades or if you're looking for that grey undertone to your lip colour.
Uncovered
This a straight up rose shade. For some this will be great for a my lips but better look or maybe a demure evening shade for those not bold enough to wear a red.
Nude Beach
I'd have expected a shade with this name to be more of a nude or at least a peach. But this is actually a soft coral which is something a bit different. I have seen a lot of talk about coral since maybe 2012, I think it's time for a comeback. This is super wearable and nice change from the norm.
Ballerina
This is the one I this will be the most popular; a classic peachy nude. An all terrains lippie that is head in to my make up bag. I know this is a first impressions but Ballerina and I hit it off and we might be life long friends. As I said these remind me of the Elf Matte lip colors, this specifically is similar to Nearly Nude. I think it's being replaced by something I have easy access to.
There are other shades in the range and, depending on how get on with these guys, I may go back for more.
Have you tried any of Primark's makeup range? What would you recommend?
Laura
xoxo